Bee Health is one the UK's leading healthcare manufacturers and the world's leading supplier of Propolis products.
It is a British company based in the heart of Yorkshire and supplies to customers in over 40 countries.
Bee Health was the first ever company to be awarded the Propolis Kitemark assuring consumers the company's products meet the high Government standards for origin, purity and active ingredients.
Bee Health's mission is to continually evolve its products, meet environmental needs and deliver the highest quality and service. Bee Health employs a dedicated team of pharmacologists, chemists, engineers and research scientists. This bank of intelligence is combined with state of the art technology to research and develop the properties and applications of this natural harvest.
Bee Health is committed to research and funds clinical tests to prove the effectiveness of this amazing natural product.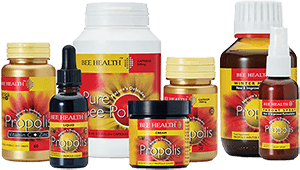 Don't miss out
From time to time we have offers on specific Bee Health Propolis products. To ensure you don't miss out please Like or Follow us on FaceBook.
Be the First to Know
Sign up for exclusive news and offers.